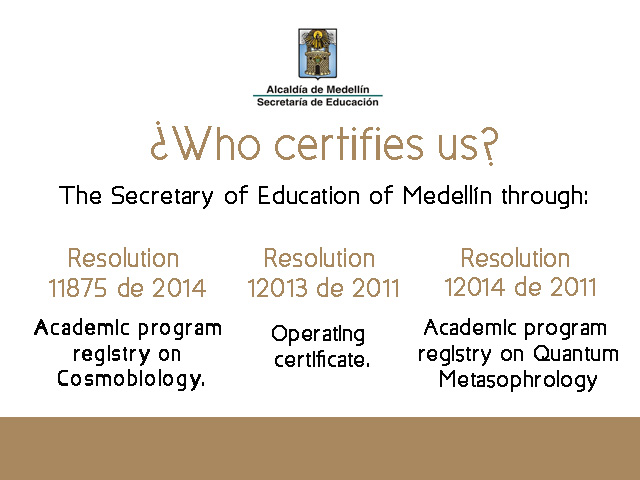 About our school
The Quantum Metasophrology school represents one of the many efforts human beings have made to understand themselves and their reality. The name combines three disciplines: metaphysics, sophrology and quantum physics. The integration of these concepts aims to stress the plurality and ideological diversity which are the essence and main motivator of this educational project.
The school offers a space for people to develop their ideas freely, without any ties or repressions, regardless of their profession, culture or ideology; so that they can feed their reason but also their spirit, establish new paradigms and focus their energy on building a new structure instead of prolonging an established one without questioning it.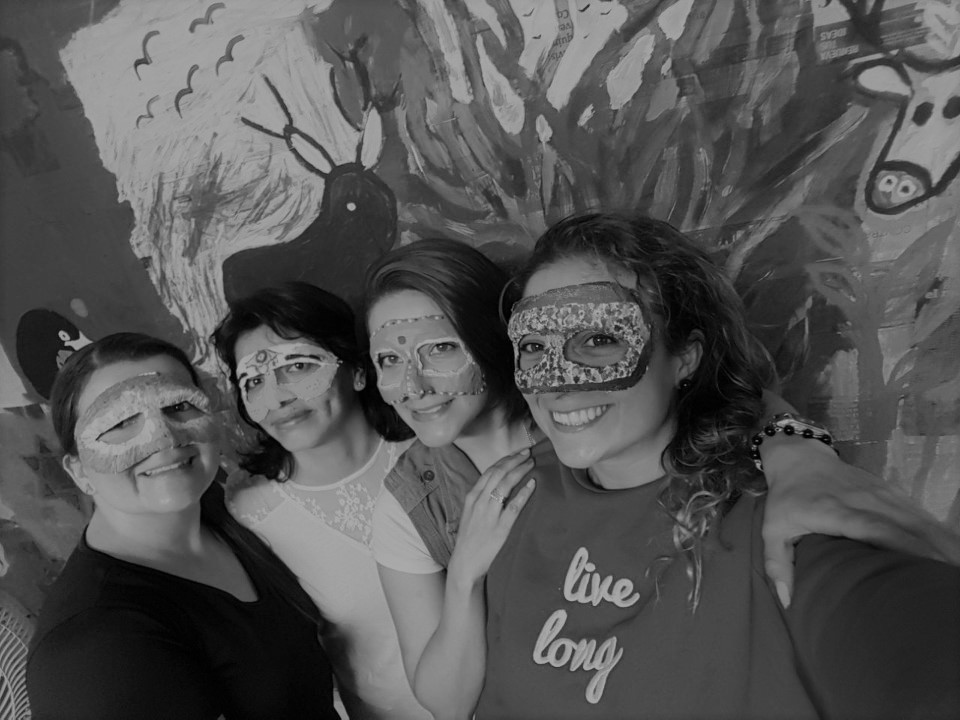 MISSION
The Quantum Metasophrology school mission is to offer to society knowledge and transformation process alternatives necessary for the awakening of consciousness through the development of academic programs.-with high quality , theoretical, scientific and investigative rigour, a notable pluralist accent and innovation- and the use of necessary and appropriate  tools that allow students training on work and human development competences (in the physical, metaphysical , sophrological, mental and quantic domains) to make part of a globalized, interactive and increasingly harmonic society that is more open ideologically to all the expressions of learning ,knowing and doing in this world and cosmic concert.
Academic program on Quantum Metasophrology 
Our program
The academic program on Quantum Metasophrology studies the human condition and explores ways to attain a more conscious human development. It considers the existence of different realities: the environmental, the emotional, the mental, the physical and the spiritual reality.
The thematic content studied in this program is directed and developed to establish the epistemological, ontological, axiological basics and other connections of Quantum Metasophrology and its formal logical relations and practices.
Approved by:

Resolution 12014  /2011. 
Renewed by:

 Resolution 002063  02/23/2017.
Certificate granted:

 Occupational aptitudes on quantum metasophrology academic knowledge.
Time to complete:

4 semesters -Each semester class days and times are defined (morning, evening or night).
Hour intensity:

3 hours during 20 weeks per semester.
Methodology:

in person.
This program brings together 3 disciplines :
Metaphysics:
The spiritual reality.
It studies human multidimensionality, spirituality and the escense of being.
Metasophrology:
The mental, emotional, environmental and physical reality.
It studies the mind- body interaction and the effects it has on health.
It determines answers to internal and external corporal stimuli on each individual. It conceives sickness as the result of alterations between biological and psychological networks and social interactions.
It integrates the psyque and nervous system with the endocryn and immune systems.
Quantum physics:
 Realities combined.
It explores the behaviour of the most elemental constituent parts of matter considering them a group of probabilities that are materialized when the observer intervenes.
Blog : 
We have opinions to give and information to share...
Academic program on Cosmobiology.
Our program
This course aims to train astrologers on the competences of humanistic and transpersonal astrological psychology, traditional astrology and astro-medicine, integrating methods and research tools in accordance with the different scenarios and consistent with the dialog held between social and health sciences.
The content develop in this program covers: Introduction to astrology, birth chart analysis (per elements, signs, houses, triplicities, quadruplicities), Wendell Polish topocentric model, anatomy, physiology and diagnostic, history, cosmobiology, psychoanalysis and transactional analysis, astrological psychology, other astrological techniques and their vision in the new age, ethics in astrology, deontological code, methods and procedures in astrological interpretation, and finally research methods.
Approved by:

Resolution 11875  10/08/2014.
Certificate granted:

 Occupational aptitudes on applied Cosmobiology.
Time to complete:

4 semesters-Each semester class days and times are defined (morning, evening or night).
Hour intensity:

300 hours per semester.
Methodology:

 In person.